Thanks for stopping by the Kick-Butt Characters Blog Hop!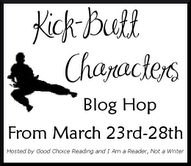 Please fill out the form below to be entered for a chance to win the following books featuring characters that kick-butt in a less traditional way. All three books are ARCs and will go to one winner.
Incarnate by Jodi Meadows
Ana is a New Soul the fitst born in thousands of years. She is ostracized and forced to strike out on her own to find out why she was born. She will have to face dragons and evil sylphs and worst of all the very society that hates her if she is going to solve the mystery behind her existence.
The Humming Room by Ellen Potter
Roo excels at one thing hiding. Hiding saved her when her parents were murdered and hiding will save her again when she is shipped off to her eccentric uncle's island. Will Roo be brave enough and smart enough to solve the mystery behind the Humming House and maybe even find a place where she belongs. Roo truly kicks butt in a less traditional way; she is smart and brave and tough.
The Cabinet of Earths by Anne Nesbit
Maya gets caught up in some dark magic in Paris. When her brother is kidnapped it is up to Maya to unravel the dark magical secrets of Paris's underworld and save her brother before it is too late. Will Maya be brave enough and smart enough to unravel the dark secrets of the cabinet of Earths?