I read a lot of YA, so it makes sense to sign up for the
YA reading challenge again happening over at Home Girl's Book Blog
.
You can read below or click on the below picture for info on this challenge.
I am going for the Super Size ME level which is 75+ YA books.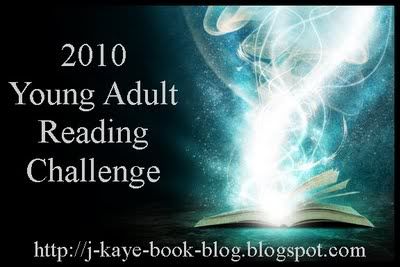 1. Anyone can join. You don't need a blog to participate.
--Non-Bloggers: Post your list of books in the comment section of the wrap-up post. To learn how to sign up without having a blog, click here.
2. There are four levels:
--The Mini YA Reading Challenge – Read 12 Young Adult novels.
--Just My Size YA Reading Challenge – Read 25 Young Adult novels.
--Stepping It Up YA Reading Challenge – Read 50 Young Adult novels.
--Super Size Me YA Reading Challenge – Read 75 Young Adult novels.
3. Audio, eBooks, re-reads all count.
4. No need to list your books in advance. You may select books as you go. Even if you list them now, you can change the list if needed.
5. Challenge begins January 1st thru December, 2010.
6. When you sign up under Mr. Linky, put the direct link to your post where your Young Adult novels will be listed. Include the URL so that other viewers can find this fun challenge. If you'd prefer to put your list in the sidebar of your blog, please leave your viewers the link to the sign up page. Again, so viewers can join the challenge too
.
I will add the books below as I read them.
1.
Blood and Chocolate
by Annette Curtis Klause
2.
3.
4.
5.
6.
7.
8.
9.
10.
11.
12.
13.
14.
15.
16.
17.
18.
19.
20.
21.
22.
23.
24.
25.
26.
27.
28.
29.
30.