Thanks for stopping by the Fairy Tale Giveaway Hop. This hop is being hosted by:

Hosted by I Am A Reader, Not A Writer and

vvb32reads.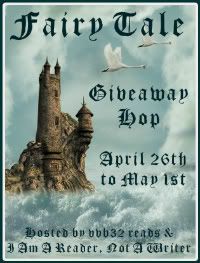 The prize for this giveaway is an advanced reading copy of The Hero's Guide to Saving Your Kingdom. Please fill out the form below to enter. Also please make sure to check out the linky below to visit other great sites participating in this hop.
One of my favorite fairy tale characters is Sorcha from Juliet Marillier's Daughter of the Forest. This book is based on the Grimm's fairy tale The Six Swans or The Wild Swans. I have always loved this fairy tale in all of its variations.
The fairy tale itself is sweet, terrifying, and so sad in a number of ways. The bonds between family and lovers talked about in interesting and thoughtful ways. Marillier did an excellent job portraying this character in Sorcha. Sorcha has to go through excruciating pain and torture in order to save her family. Sorcha confronts her problems with a silent and determined strength that is admirable. Through it all she never looses her sense of self and never gives in to despair. It is a beautiful story, with a lot of sadness but also a lot of hope. I remember reading it and being absolutely enchanted with Sorcha and her silent strength. Just talking about it makes me want to pick it up to read again!