Thanks to everyone who participated in the Kick-Butt Characters Blog Hop!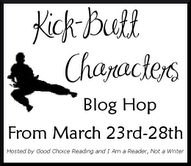 There were 149 entries and the winner was chosen using random.org
The top kick-butt character that people listed as their favorite was Katniss (by a landslide) from The Hunger Games. I guess I shouldn't be surprised considering the timing :-)
A close second was Rose from Vampire Academy.
Also an honorable mention to Kali from Every Other Day.
My personal favorite that someone listed was Gandalf...I am rereading The Hobbit with my son and Gandalf totally kicks-butt!